Installing Freshservice - VSTS (Azure DevOps) Integration App Setup Guide Step by Step
Installing Freshservice - VSTS (Azure DevOps) Integration App Setup Guide Step by Step
To Install the App Click on Below Link.
Click on Install and Enter your Freshservice URL as show in the screenshot below.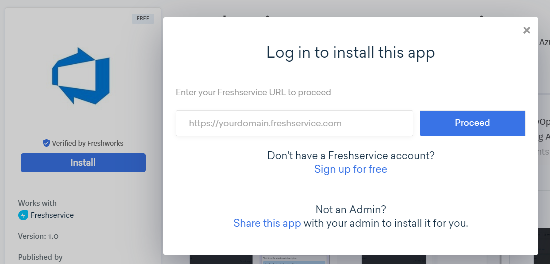 Click on Proceed.
Now you will see installation page something like below.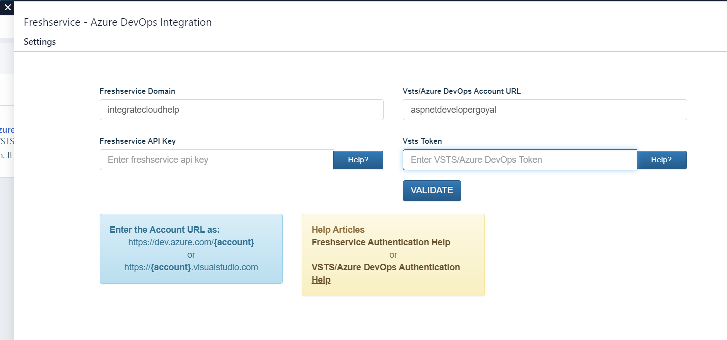 Enter your Freshservice  domain. e.g. if your Freshservice URL is https://sotiriszegiannis.freshservice.com then enter the Freshservice domain as sotiriszegiannis
   b. Enter your Freshservice API Token. To generate the Freshservice API Token click on this link for more info 
            https://support.freshdesk.com/support/solutions/articles/215517-how-to-find-your-api-key
   c. Enter your VSTS (Azure DevOps) Account URL.
   d. Enter your VSTS (Azure DevOps Account Token. Click below to get help on how to generate Token. 
            https://integratecloud.azuredesk.co/SupportHome/Articles?query=5339_Zendesk_VSTS_App_by_IntegrateCloud?articleID=5823
  e. Click validate to Validate Your Freshservice and VSTS (Azure DevOps) Credentials. Once Credentials are validated your will see the message like below.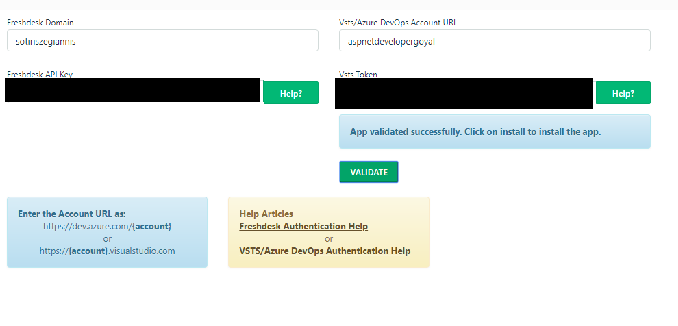 f. Once Credentials are validated. Click on Install to install the App.
Once the App is installed now you can go to any of your Ticket to start  using the App.
In the App You can create Bug, Epic, Feature, User Story etc.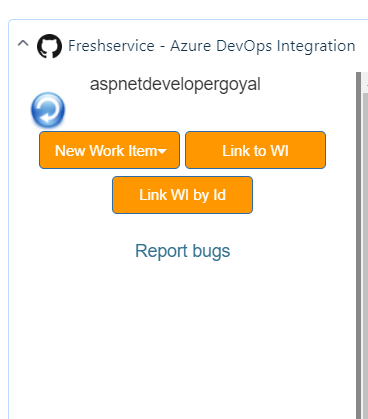 You can link existing Work Item to Freshservice Ticket.
You can Notify your Linked Work Items. See the screen shot below for more details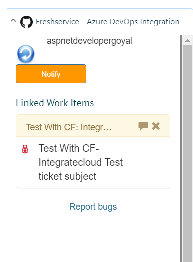 ---
---